Market Your Dental Practice Locally in 2016
Is your dental practice in need of a marketing boost? Do you often find yourself searching for new dental practice marketing ideas or strategies? Or, do you not yet have a focused marketing plan for the remainder of 2016?
I think you can agree with me when I say:
Coming up with ideas for marketing your dental practice can be intimidating and most practice owners don't know where to start.
If you're suffering from information overload or just want a new marketing strategy for 2016, these five tactics will definitely help give your dental practice a boost for the remainder of the year.
1.) Market Your Dental Practice With the USPS EDDM Program 
It still baffles me that a lot of business owners still don't know or have yet to utilize the USPS EDDM (Every Door Direct Mail) program. At the time of this writing, business owners can send large over-sized mail pieces to local residents for as little as little as $0.0176 cents per piece!
Granted, you do have to put in a little work if you decide to take on this marketing task yourself. You will need to design and bundle your mail pieces yourself when using EDDM retail, however; if you're not feeling up to the challenge of bundling hundreds or thousands of postcards, there are plenty of printers and providers that can do this for you.
Here is an example of a large EDDM  postcard mail piece we did for Abby's Millstone Bakery, a local bakery in Agoura Hills, CA. The size of the piece was 6.5″x 12″, which stood out from other mail pieces.
The purpose of this card was to announce the relaunch of the bakery and offer locals coupons to drive traffic to the grand opening.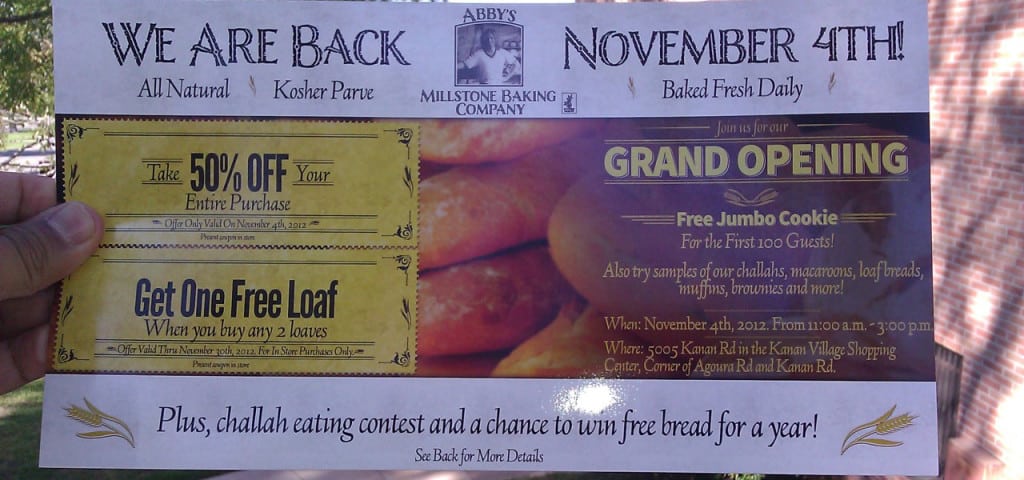 As you can see, giant postcards stand out in the mailbox and locals are forced to take action on it. When I say forced to take action, I mean the size of the mail piece forces the individual to view the postcard and either save the offer/postcard for later use, or, the customer will toss the mail piece but not before your brand and offer is presented to them.
For those who still like to advertise via billboard, think of this as a mini billboard but with your offer and information in the hands of your local residents.
Creating a EDDM Campaign
Creating a local EDDM campaign as part of your dental practice marketing strategy is relatively easy. You can do it in your spare time or have an assistant do some research and implement these steps:
Define your audience
Select your route(s)
Design and print your postcards
Prepare your postcards for mailing
Ship your postcards
Track to determine ROI
Define your audience
Since EDDM is a saturation style campaign, it's a little complicated to narrow down your audience to target specific lists or segments. For the sake of this post, we'll focus on saturation style mailings to help spread the word about your offers and dental practice.
This can be done by utilizing your current database of clients who have not been back for check-ups or have missed appointments etc. If you know their demographics then compile their average household income and addresses.
Finding Which Routes Your Clients Reside In
Once you've complied your data and you have an idea of the average household income for your audience, you can begin selecting routes and target those similar to the income range you have compiled.
For example, lets say I have a client who has not been back for a checkup or dental work in the last 6 months. You have his address and can input that data into data tools such as melissadata.com to find the carrier route your client resides in.
Visit melissadata.com and click on lookups.

Once you've clicked, visit the link that says "address check" and you will see the following screen below.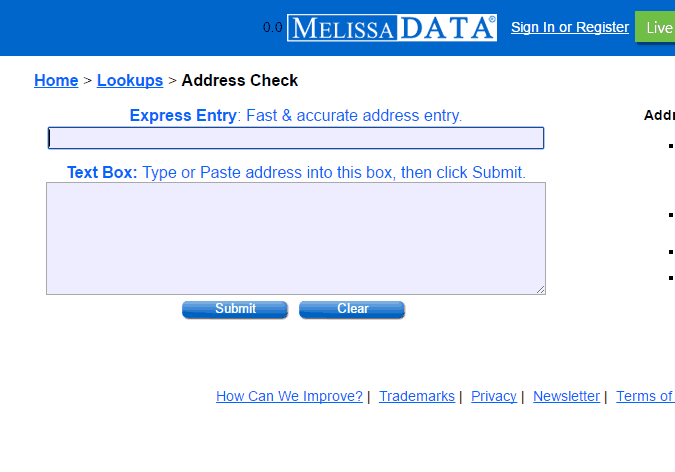 The is where you would input the selected user data to find the carrier route that your client resides in. Here is an example, I used the address of a local dental practice so we can see the data and locate the carrier route.
If this were a client, now we know that they reside in the postal carrier route C033. That gives us a little more information as to which route to select when mailing out your EDDM postcards.
Now that you know the route your client lives in, you can input that data in the EDDM route selector tool and get more information regarding the neighborhood and see if it's an ideal neighborhood you would want to target based off of your target audience.
You can do the same search using the "batch address check" for bulk addresses by using the batch tool here.
Match Your Demographics
Visit the EDDM route selector tool and input the client address (in this example case, I'll input our dental practice address). You'll get a marker pointed to the route your address is located in.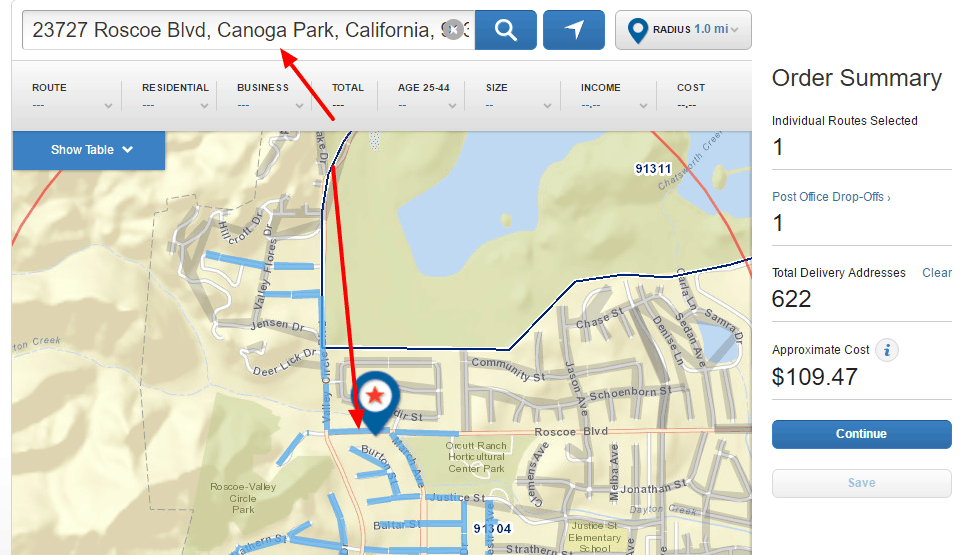 Click on the route and it will then be highlighted in blue. Once you believe you have the correct route selected, click on the "show table" dropdown to see the route number along with the demographics for the specific route(s).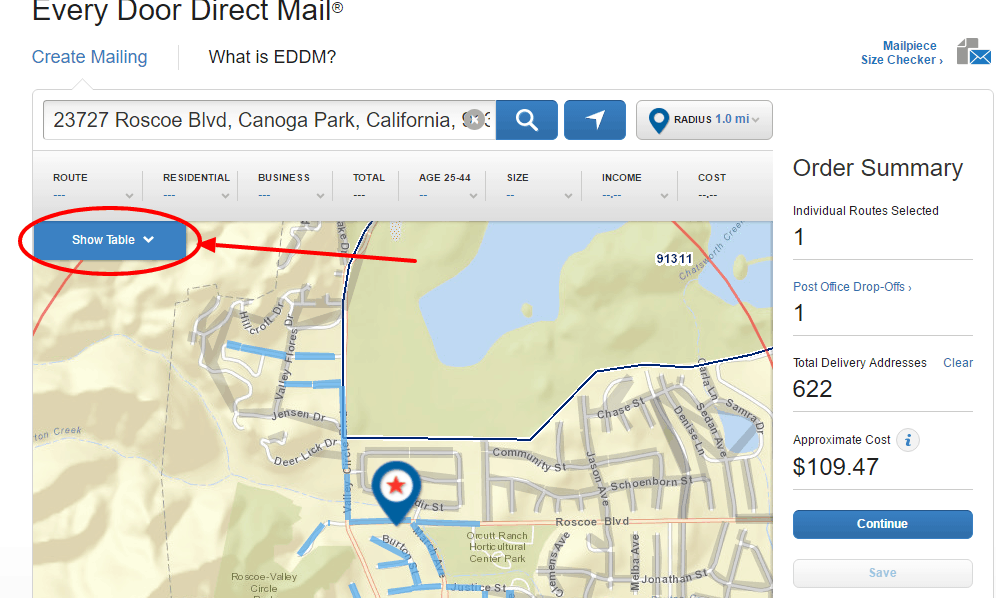 This is the data we want to analyze and see if it's a great fit and within our target audience demographics.
Remember, our target audience for this campaign example are those clients who have not been back to your practice in 3-6 months in addition to your target household income range.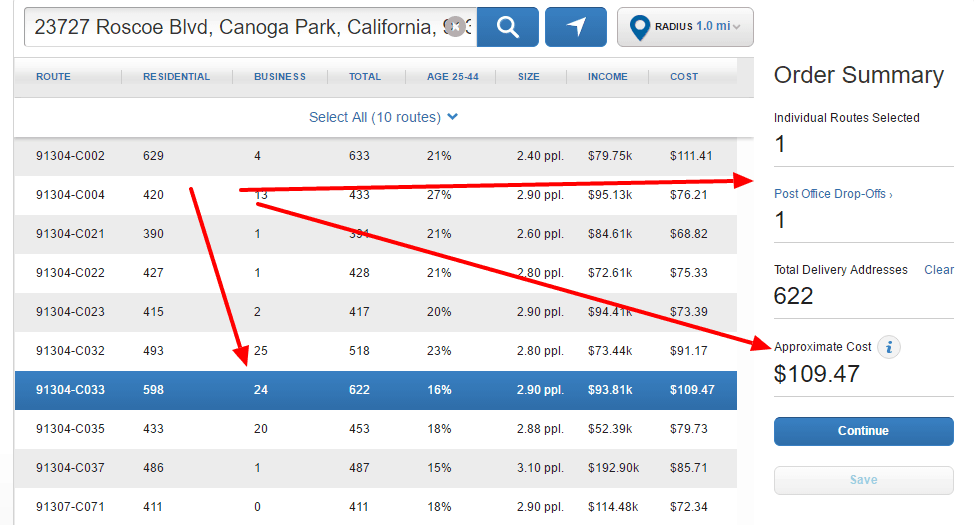 As you can see, the data shows there are 622 home addresses and 24 business addresses within this single mail route. The average household size is 2.90 people with an average household income $94,000.
The cost to mail your postcards within this route would be only $109.47!
Craft Your Offer
Using direct mail to reach your local demographic is a great way to increase brand exposure in addition to potentially landing new clients. Though advertising is important, having a great offer to promote is what will get bottoms in your chairs.
Some popular offers to consider:
$29-$59 Initial exam, Cleaning and X-rays for new patients
Free teeth whitening session with initial exam (new patients)
$50 for $100 toward dental services
$99 In-office exam + teeth whitening treatment special (new patients)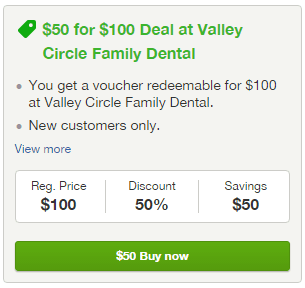 Now that you have an offer to promote, you can have your graphic designer create your postcard and feature your offer(s) on it.
**IMPORTANT**
Be sure to include your website url or the url where your special offer is located (if you have a landing page created for that specific offer). Also, it's always a good idea to add a call tracking number for your EDDM campaign. This will allow you to track calls and determine your ROI from mailed campaigns.
Prepare Your Mailing
Assuming you've completed the previous steps above and getting the routes your clients reside in and you have determined  if the route data is an ideal target market for your mailing, you then need to prepare the postcards for shipment.
The USPS requires that you bundle your postcards in quantities of 50-100 and have a completed facing slip added to your bundle.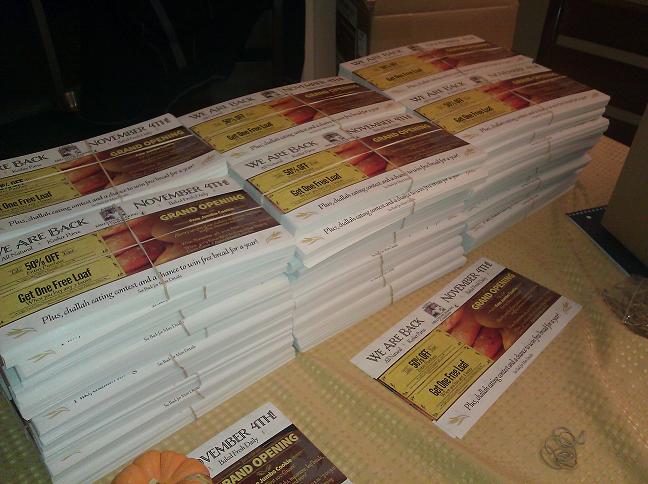 At a price of only $0.176 cents per home, Every Door Direct Mail is a great way to reach those in your local market.
2. Email Marketing – Build Your Practice Email Subscriber List
I'm sure you've heard the phrase "The money is in the list", well it's true. According to a survey conducted my MarketingSherpa, 72% of adults based in the U.S. say they prefer companies to communicate with them via email followed by direct mail. Also, about 91% of U.S. adults say they they like to receive promotional emails from businesses or companies they do business with.
What does this mean for your dental practice? If you're not building your list and actively emailing your clients, your missing out on marketing opportunities.
Especially if your not marketing to patients who have only visited your office only once or twice. Segmenting your patients and sending newsletters to those who have only visited your office once or twice is a great way to build trust.
Online Methods to Building Your List
Some dental practices are trying to build up their email list by simply adding a sign up form on the homepage or across the entire website within the footer. This is a good start but far from effective. You need to have some sort of incentive in place to capture emails.
a. Offer a Lead Magnet
Lead magnets can be anything. Digital Marketer defines lead magnets as "an irresistible bribe offering a specific chunk of value to a prospect in exchange for their contact information. The goal of the Lead Magnet is to maximize the number of targeted leads you are getting for an offer".
They don't have to be complex, lengthy, expensive or labor intensive, as long as the prospect can consume the information and find it valuable enough to give you their email and/or contact information.
Some examples of great dental Lead Magnets:
Coupons or special offers
Ebooks (Example titles: oral hygiene for kids, natural ways to whiten teeth until your next visit etc.)
Video series (training, tips etc.)
Mobile app download
Podcast
Here is a great example of a lead magnet that is noticeable and above "the fold" (towards the top of the website before scrolling). It's an offer for free teeth whitening when a new patient is seen for an initial exam, cleaning and x-rays.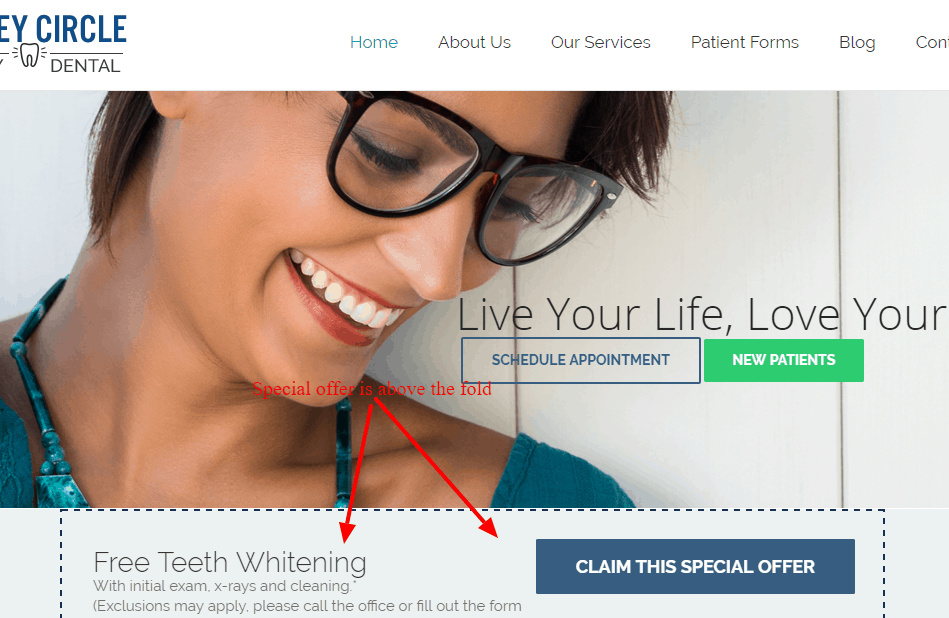 Here is another example of a dental practice offering an ebook as a lead magnet. As you can see, the opt-in form is visible and the landing page clearly explains the value of the lead magnet.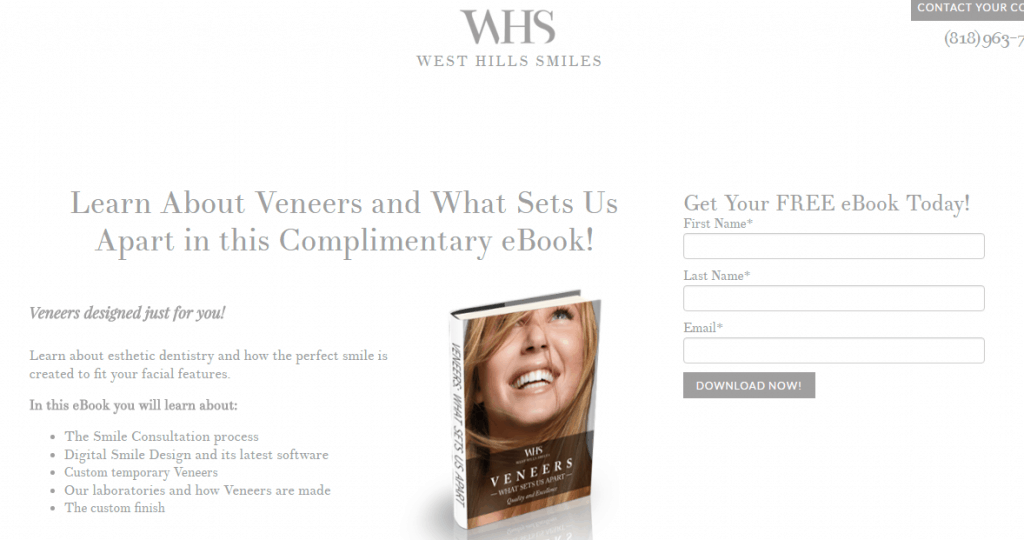 b. Use Your Social Profiles to Gain Subscribers
Facebook, twitter and instagram are the popular social platforms that dental practices utilize when marketing on social media. If you practice is actively engaging users on these platforms, then its a perfect fit to help build your email subscriber base.
Share your lead magnets and post about them on these social platforms. There is nothing wrong with a little plug here and there, just don't over do it. Send that traffic to your special offer page and capture those subscribers.
c. Add a Subscriber Form to Your Blog with a Call To Action
Blogging is a great way to add subscribers to your email list. Most dental practices are either missing a blog or have little to no time to add fresh content. Be sure to blog at least once or twice a month. Having a blog and adding a newsletter form to the bottom of each post is another effective way to increase your subscriber base.
Here is an example of a blog who implements a subscriber form at the bottom of each blog post. You can even tailor the lead magnet to be specific to each post.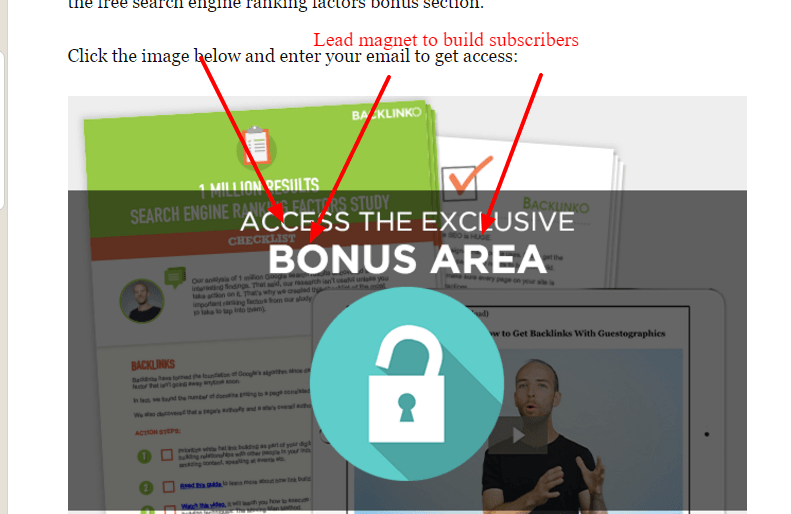 Blogging is another great way for those in your local geographical area to get a sense of who you are as a dental professional and as a person. Your blog should be posting both professional informative posts in conjunction with fun and personable posts.
An example of a professional but yet personable post would be about your recent trip at a convention. You could include details about any training sessions you may have had, new colleagues or business relationships made, even the nightlife at the convention.
Imagine your patients viewing a personable yet professional blog post about a trip like this? It builds trust and shows both the professional and personal side of your dental practice.
Some other post ideas would include funny viral videos that are dental related. For example, "Five of the funniest dental visits of 2015", then find 5 funny dental related videos on youtube and write a little excerpt on you thoughts about each one (citations included).
Email marketing is here to stay. Now is the time to build your email subscriber base and begin marketing to your subscribers on a monthly basis.
3. Market Your Dental Practice With Facebook Ads

You already know the importance of having a social presence, now you can boost that presence and grow your dental practice by using facebook ads.
This is different than traditional facebook marketing, where you frequently post on your page to increase engagement which is free to do. Facebook changed the game and now your posts are not reaching a majority of your followers.
Now facebook wants you to "pay to play" by "boosting" posts or by sending traffic to your website by utilizing various paid objectives. These are the typical ads you see within your facebook feed or sidebar and/or instagram feed.
To run a successful ads campaign on facebook you need to:
Select the right objective

Not all objectives are the same. You need to select the right objective that aligns with your advertising goals.

Segment your audience

Selecting the right target audience for your campaign is crucial. You want to make sure you only select the audience you feel would benefit from your ad.

Ad optimization

Once you define your target audience, create your ad and tailor it to how you think that audience will respond to it. You wouldn't use a picture of a businessman for an ad regarding family dentistry, ad optimization is important.

Landing page optimization

Make sure your ad reflects what is on your landing page or the page whee you will be sending traffic to. Have multiple calls to action and have your phone number visible.

Tracking

You will also want to make sure your website has your facebook pixel included. This pixel will help you track conversions and also remember who visits what page on you website. This will be important if you plan on doing any sort of re-targeting campaign.
Selecting the right ad objective
Facebook offers several different ad objectives, allowing you select the best method for your advertising goals. Depending on your ad objective,  you should define each audience based on the content you're promoting.
As you can see there are several ways to advertise on facebook. The most effective ways to advertise a dental practice would be clicks to website, claim offer, conversions and local reach.
Let's just use "clicks to website" for our example. In the clicks to website objective, an advertiser would bid based on the audience size, interests,  location and demographics. Facebook allows you to narrow down your audience with it's powerful ad system and useful data so your ads only show to relevant people.
Define Your Audience
For example, lets say you're a dentist in Los Angeles and currently have a teeth whitening special you would like to advertise via facebook ads. One strategy would be to blanket and target those who live in Los Angeles and who are 21+ years old. While this strategy could bring in some leads and patients, it would increase ad spend and the ROI would not be worth it.
It would be better to write down who you think your ideal target audience would be for this offer. In this case some ideas for targeting would be those professionals who live in Los Angeles, who are C-level executives, those who do a lot of public speaking, or those who interact with people/consumers on a regular basis, like real estate agents or journalists (just examples).
Now that we have an idea of those who we would like to target, let's input that data in facebook to see what the numbers look like.
As you can see we have about 190,000 people in our targeted audience that would be a good fit for a free teeth whitening offer.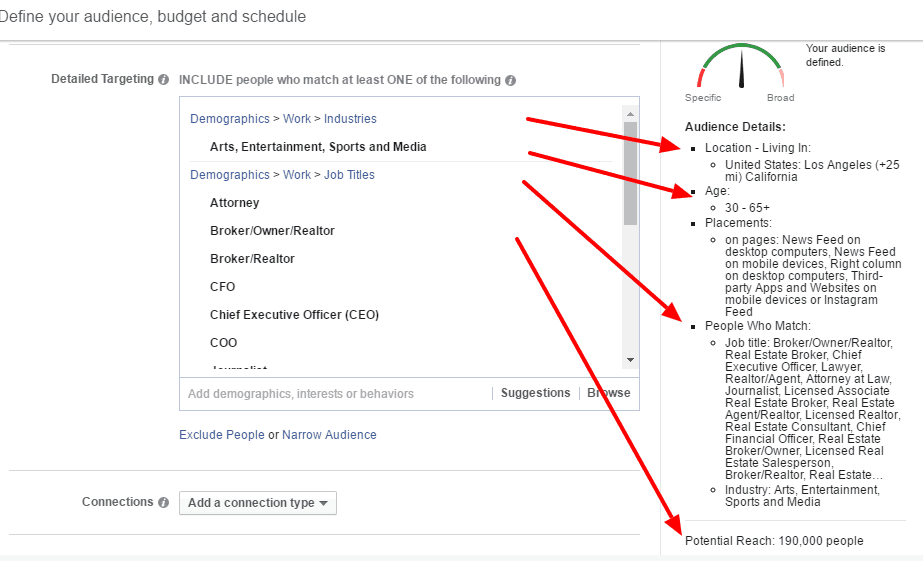 Now that the audience is set, you can create your ad image and copy. It's important to remember for best results, facebook recommends that your only use 20% of text in your images (or your ad cost can possibly increase).
Create Your Ad
When creating your ad, be sure the ad reflects what your offer is and what your landing page states. If you ad is not optimized for the audience and you get negative feedback on your ad, your costs will increase. Here is an example of a great ad for a local dental practice offering free teeth whitening for new patients.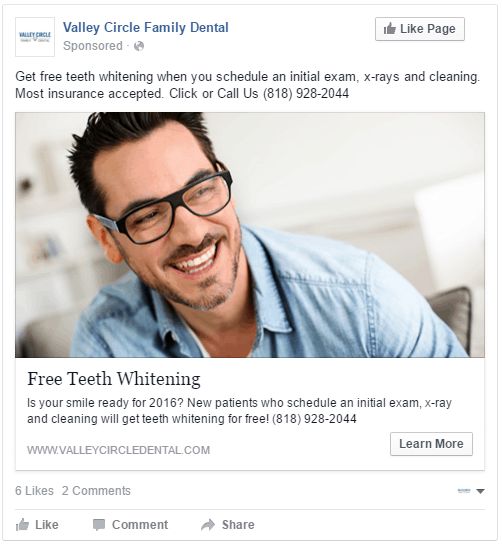 The ad clearly states the offer, has an image that reflects the possible outcome of the offer (clean, white teeth, great smile) and has a call to action button so prospects can click to learn more about the offer or, they have a phone number (call tracking number) where they can call the office to learn more.
The more relevant and targeted you ad is and if it receives positive feedback, your ad cost will be decreased as facebook continues to adjust and optimize based on that feedback.
Here is another example of a optimized ad campaign we did for a kitchen remodeler in Los Angeles.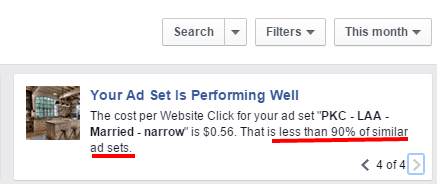 As you can see, facebook will continue to optimize your ads and decrease your cost if your ads receive positive feedback, or, with little to no negative feedback.
4. Optimize Your Website for Local SEO
The thought of learning and implementing SEO can be a bit overwhelming for the small business owner or entrepreneur. As a business owner you might be getting phone calls or emails on a daily basis regarding SEO services and the promise of page one rankings.
It's the day and age we live in and your practice must embrace local search engine optimization. Local SEO is an effective way to gain both traffic and leads for your dental practice. It's not as scary, or as daunting as you may first imagine. Here are some tips to get your website in good shape.
Keyword Research
Knowing what your local demographic is searching for in regards to your services is vital to a successful local SEO campaign. There are lots of tools on the market that will help you conduct keyword research, however, I would recommend using the default keyword planner Google provides for advertisers. This tools allows potential advertisers to gather important keyword information.
Let's see how many people are searching for dental related keyword terms in Los Angeles County.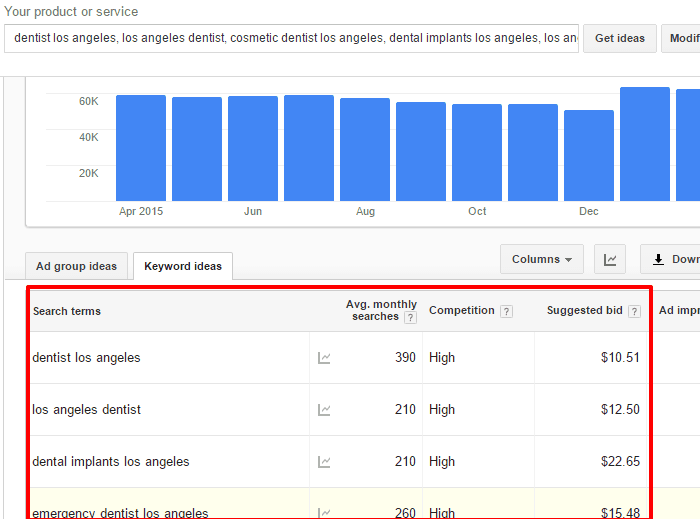 As you can see, there are several great local keywords to aim for. Also, make sure to include emergency related local keywords if your practice offers dental emergency services. Now that we have an idea of what our local demographic is searching for, it's time to audit your website and see if its properly optimized for the search engines.
Audit Your Website
Audits are important to ensure that your website is not only fresh and relevant but also properly optimized for the search engines. Just like keyword tools, there are many website audit tools available. We'll use our website audit tool for this example (there is a short form version of this tool available for you at the bottom of this post).
Visit our website audit tool and input your url and a targeted keyword you would like to rank for.

Once you have entered your information, the report should take about 45 seconds to populate the results. Now you have data and an idea of what needs optimization on your website.
Optimize Your Website
Now that you have your audit complete, you can begin implementing the recommended optimization steps necessary to rank.  Use the audit as a guide to correct any current issues and be sure that you also add any local keywords to your website as needed but be careful not to over optimize and add too many keywords.
In as little as 45 seconds, you can see what's possibly holding your website back in the search engines. Use our tool below to generate your website audit.
What's your SEO score?
Enter the URL of any website landing page or blog article and see how optimized it is for one keyword or phrase.
[MySiteAuditor id=10]
Build Local Citations
Local citations are one of many known ranking factors and are nothing more than online business mentions. These include listings on local directory websites such as yellowpages.com, manta.com, whitepages.com etc.
It's important to ensure all your listings are consistent as possible. You want consistent NAP (Name, Address, Phone Number).
Here is an example of consistent NAP.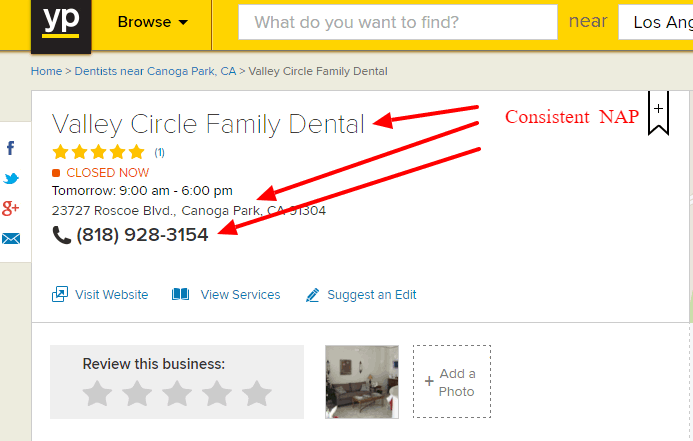 As you can see in the image above, the name, address and phone number would need to match across all your local listings, including your Google business profile. Make sure you build as many local citations as possible.
Build Backlinks
In addition to building citations, you should also build backlinks to your website and blog content. When another trusted website links to your website, Google and other search engines see this like "votes". The more links or "votes" you have to your website, usually the better the ranking for your targeted keyword terms.
Make sure to diversify your links and have a healthy mix of directory, blog, website, and social links pointing to your website. This is what Google has to say about ranking your local business profile.
Don't just get any links to point back to your site. Only those that are directories or relative to your content are the most beneficial.
5. Use Retargeting to Engage Missed Opportunities
Retargeting allows you serve ads again to those who have previously visited your landing page or website and did not convert. It's a great way to advertise again to your target audience without having to pay the same price as the first time they clicked on your ad.
Visitors don't necessarily need to visit your website via online ads alone, it works for those who directly visit your website as well. You can easily track those in a direct mail (or EDDM) campaign. If you've added your url or landing page url to your direct mail piece and a user visits that url, they are now added to the audience you are tracking.
In order to take advantage of retargeting, you would need to get the retargeting code and add it to your website or landing page. Each platform has their own piece of code you would need to use on your website. This can be time consuming and technical.
Don't worry, there are plenty of tools and services out there that allow you to consolidate and allow you to use only one single piece of code.
Perfectaudience.com is a great way to implement retargeting and not have to worry about adding several pieces of code. Perfect Audience has only one piece of tracking code you would need to add to your website and you're ready to go.
Add Retargeting Code
Sign up and login to perfectaudience.com, they have a user friendly walk through when you first login, so we'll focus on finding the code to add to your website or landing page (you can also email it to your webmaster).
Once you're in the dashboard, click on the manage menu, then on "user tracking".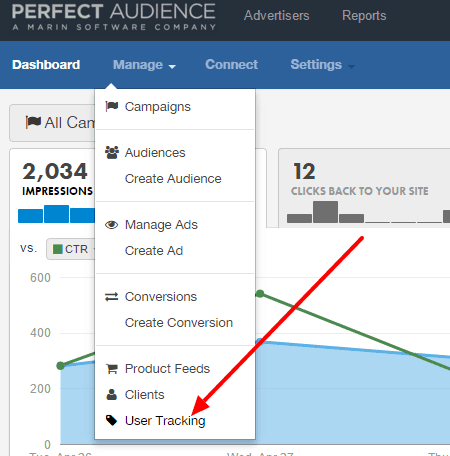 You will need to add before the </body> tag on every page you want to track. There is a button that allows you to email this code to a webmaster or developer for implementation.
Track Conversions
Once the code is installed, it begins to track those who visit your website or landing page and stats are updated frequently.
You will also want to add conversion tracking within the perfect audience dashboard. This will help you determine the ROI of your campaign and which ads are converting better than others.
To set up conversion tracking, simply click on the manage menu and select create conversion. This will direct you to the screen where you will create conversions for your offers and ads.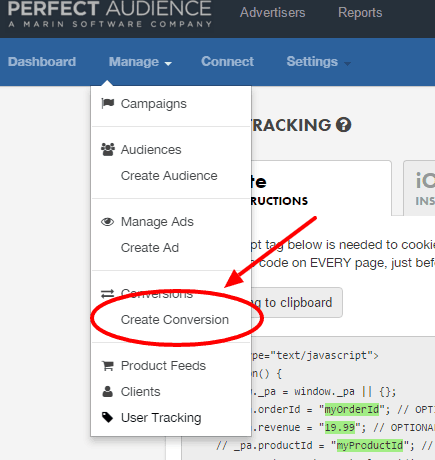 Once you're on the conversions page, fill out the form and add all the necessary information and click submit and now you have a conversion set ready to track.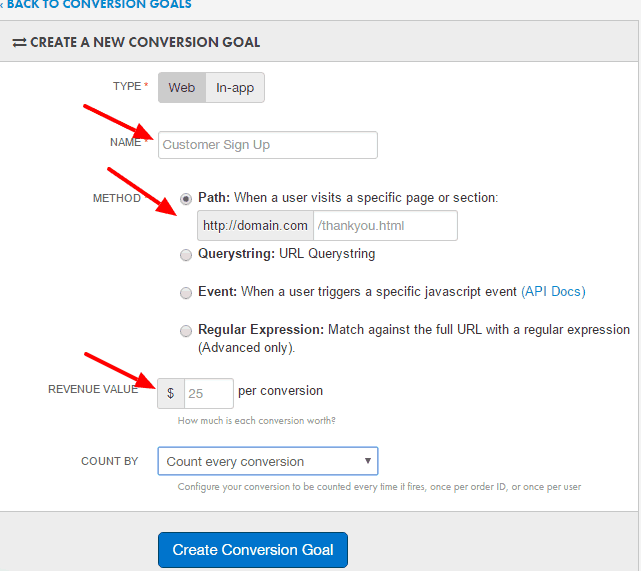 Now your retargeting campaign is set up, you're ready to market your website, landing page and offers to prospects again by gently reminding them of your offer(s) and/or services within a window of 180 days.
Conclusion
If you haven't started marketing or if you feel like your current marketing campaign needs a boost, use the 5 dental marketing ideas mentioned above to increase both traffic and revenue for the remainder of 2016.
Remember, "you can't improve what you don't measure". Make sure you have proper tracking and analytics set up to help you determine your ROI and to see which methods are working for your business.
Have you tried any of these methods? What are other tips you use to get new leads for your business?
If you haven't done so, generate your website analysis today!