The Problem With Typical Direct Mail Marketing
For years direct mail was a great way to get your message out in a personal way to hundreds or thousands of people in your target market. But as it got more and more expensive over the years and more and more saturated, it became less and less effective.
People's mailboxes became overcrowded and people quickly developed an 'A' pile and a 'B' pile system. Anything that looked like 'real' mail went in the A pile and got opened. Anything that smelled of 'junk' mail went in the B pile and got tossed.
A lot of direct mail advertising ended up in the B pile and the return on investment just wasn't there.
One type of direct mail has survived and that's Val-Pack coupons and similar advertising concepts. If you are not familiar with these programs, they are basically sending out an envelope of coupons in the mail to homeowners. Advertisers benefit by sharing mailing costs. It sounds good but there are some problems with this type of advertising as well which we'll see shortly.
The Solution – 9×12 Co-Op Postcards
So far we've talked about a few different problems when it comes to advertising…
The advertising needs to be inexpensive enough to turn a substantial profit
The advertising needs to be in a place where people will actually read it
The advertising needs to grab people's attention and interrupt those who may not have been looking for what you are offering previous to them getting your advertising
The solution to your advertising problems are our new 9×12 Co-Op Postcards. They are inexpensive (as you'll see shortly), they grab people's attention long enough to get your message across and they actually get read.
They are new, innovative and exciting so they rise to the top of the homeowners mail pile, over top of the B pile and even above the A pile.
Let's learn more about our 9×12 Co-Op Postcards and how they work…
What Are 9×12 Co-Op Postcards?
Our post cards are HUGE: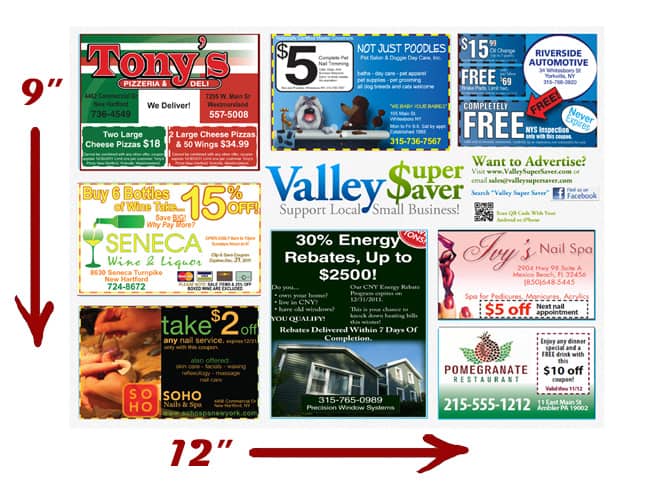 They are a full 9 inches tall by 12 inches wide and printed on quality stock paper. That's slightly bigger than a standard sheet of writing paper. They are glossy and in full color so they are sure to get people's attention when they land in their mailboxes. Homeowners just aren't used to seeing these types of ads so they are very attention getting. In fact these post cards are likely the first thing your prospective customer will look at when sorting the mail because they are so unusual and attractive.
You'd imagine that a postcard like this might be very expensive but you'd be wrong. The magic is the co-operative nature of the cards…
How Do 9×12 Co-Op Postcards Work?
Even though these postcards are an amazing attention getter, they'd simply be too costly for most businesses to use all on their own. You've likely heard of the term co-operative advertising before. Basically it's when non-competing local businesses share advertising expenses rather than paying the price all on their own.
Small and big companies do it all of the time. You'll see large companies like McDonald's sharing an advertisement with Coke perhaps. On a smaller, more local scale you've probably seen and maybe even advertised in Val-Pak coupons. In case you haven't seen them, Val-Pak (and similar companies) send envelopes to homeowners stuffed with local coupons.
Val-Pack is a great idea except that they have become old news – fewer and fewer people look at them and there's so much stuff in there that it's hard for you to stick out. Most of these types of programs seem to take everybody and anybody, which ruins the integrity of the program.
Our 9×12 Co-Op Postcards are different. Instead of an envelope full of junk, we'll send out 1 beautiful looking postcard with carefully chosen, non-competing advertisers. The cards get looked at immediately because they are so unique and your offer gets read immediately.
In fact, our postcards are so unique and of such high quality that many homeowners will place them on their fridge so your message will stay in front of them for weeks at a time.
And, due to the co-operative nature of these postcards, you'll be pleasantly surprised at just how small the investment is…
So, How Much Do 9×12 Co-Op Postcards Cost?
By now you should be able to see how effective our 9×12 Co-Op postcards are but you are probably wondering if they are cost effective. After all, great advertising isn't so great if it costs you a small fortune.
First let me tell you exactly what we do when you become a customer….
We take care of all of the design work.  Of course we'll probably ask you for some stuff you already have like photos or logos etc. but other than that we take care of all of the design.  This helps to keep an attractive look while working with different advertisers who might have different preferences.  Your advertisement will obviously be unique but it will have a similar look and feel to the others creating a harmonious appearance.
We'll help you develop a winning offer.  Your ad will only do as well as the offer that is on it.  The right offer can make your campaign while a bad offer can ruin it.  In order not to leave anything up to chance, our marketing experts will work with you to develop the right offer for your business.  This could simply be a coupon or something more complex like a contest.  We'll figure it out together.
We'll help you put tracking mechanisms in place.  Advertising is only good if it provides you with a return on investment.  And it you're not tracking where your sales are coming from, how can you be sure what your return on investment really is?  The right tracking to use depends largely on what type of business you are.  We are experts at tracking and we'll help you put the right mechanisms in place so you can fully understand what your return is on this advertising.  From things like coupon codes to special tracking numbers, we've got you covered.
We take care of getting the list.  Who you send your advertising to is as important as what you send them. We make sure our postcards are sent to the right neighborhoods – to people who fit your target demographics. If you were a jeweler, you wouldn't want an advertisement for high-end jewelry going to a struggling neighborhood would you?  We take care that your ad gets to the right demographic.
We take care of the printing and mailing.  This advertising is totally hands off for you.  We print the cards on our high quality printers and we get them mailed as quickly as possible so there's no delay in getting sales rolling in from your advertising.
As you can see there is a lot time, care and support that goes into our 9×12 Co-Op Postcards. Everything is handled for you in a timely, professional manner. Nothing is left to chance because we are as invested in your success as you are – we want you to be an advertiser for many years to come.
We mail our postcards to 10,000 homeowners in your area. Prices start at only $ 0.045 cents per household. That's printed and delivered. Finally there's an inexpensive yet effective way to advertise your products or services.
But are our 9×12 Co-Op Postcards right for you…
Who Are 9×12 Co-Op Postcards For?
First, we service the following areas: Los Angeles, Simi Valley, Santa Clarita Valley, and San Fernando Valley. If your business targets one ore more of these areas then our advertising may be perfect for you.
You might be wondering what types of businesses these postcards work best for? We've found the best success with businesses that have non-emergency types of products or services. If you offer emergency services like plumbing then you might get lucky timing wise but you probably won't see the big return on your investment like non-emergency businesses.
Typical businesses that do very well with this type of advertising are:
Restaurants
Take out pizza places
Retailers (such as jewelers, health food stores, clothing stores etc.)
Spas and salons
Services like massage, chiropractic, dentists etc.
Home services like painting, landscaping, pool services etc.
Real estate companies, mortgage brokers, insurance agents etc.
And there's plenty more, those are just a few examples. If you are not sure if our 9×12 Co-Op Postcards are right for you, simply give us a call for a free no-obligation consultation and we'll let you know honestly if we think they will work for you or not.
So, in summary…
What Are The Main Benefits Of 9×12 Co-Op Postcards?
Let's take a moment to recap the main benefits of our 9×12 Co-Op Postcards versus other forms of advertising…
Our postcards get read. The sheer size of them along with the attractive design virtually guarantees that they will get read versus other types of mailings like small postcards or flyer coupons.
Our postcards get kept. Again, these are so unique that people will hold on to them for weeks or months. While advertising via coupon packs get sorted over the trash bin, your message stands a good chance of landing on your prospective customers fridge. This ensures it will be looked at often so if the timing isn't exactly right for them to purchase today you'll still be front and center when it is. In fact when our postcards get put on the refrigerator, often other family members and friends will see your ad when visiting so the reach is potentially far greater than just the number of households the postcards are mailed to alone.
We help you with the marketing. As we mentioned, we'll help you with the offer for your advertising, we'll take care of the graphics, we'll help you put tracking in place and we'll take care of the printing and mailing. We know your time is valuable and this is a hands-off thing for you.
Our postcards are inexpensive. At only 7 cents per household, our 9×12 Co-Op Postcards are about as an inexpensive form of advertising as you can get. The leverage comes in the co-operative nature of the cards.
Our postcards are effective. Instead of advertising passively like the Yellow Pages or the Internet and waiting for somebody to need your products or services, our postcards reach out into the community and aggressively advertise what you have to offer. That's effective advertising.
Our postcards are exclusive. If you are a pizza place then you don't have to worry about competing with another pizza place on our cards. Likewise if you are a car dealer, you'll be the only one. We don't believe in pitting our advertisers against each other.
Here's How To Get Started
Getting started advertising in our 9×12 Co-Op postcards is simple. If your business targets consumers in Los Angeles, Simi Valley, Santa Clarita Valley, and San Fernando Valley then simply give us a call at 818-937-3042 for a free, no-obligation consultation.
First we'll make sure you are not a competing with another of our advertisers and then we'll let you know honestly if with think we'd make a good fit together.
Give us a call at 818-937-3042 and we'll get started.