Here's how we got an EXTRA 1,600 pageviews and 20+ online appointments by using

ONLY ONE

online channel!
Teeth Whitening Offers Redeemed
The Client
Valley Circle Dental is a dental practice located in West Hills, CA and is owned by Dr. Ray Hatami. Dr. Ray has been serving the West Hills community for over 10 years offering a wide array of services which include cosmetic dentistry, emergency dental services, implants and more.
Dr. Hatami's goals were to gain new leads from their dental practice website, primarily from organic search results (via local dental related keyword terms).
The Problems
Before I was hired, Valley Circle Dental told me they were disappointed with their online presence and organic search rankings. Their current website had little to no visibility in Google, Bing and Yahoo search engines.
In addition, they hired an internet marketing company who stated they specialized in local search engine optimization (SEO), but had bad luck in gaining the rankings that were promised.
Their website was stuck on page 3 of Google for local dental related keyword terms. Not only did they have no visibility, they were generating little traffic and zero online appointments from the website.  To top it off, the website that was on page three wasn't even their own property; it belonged to the marketing company whom they previously hired. They were basically paying the company to rank a website that wasn't even their own.
Another major problem was the fact that Dr. Ray was not in control of his verified local listings. This would include major listings such as Google My Business (Google Maps), Bing local and Yahoo local. Not being in control could be a potential issue later on down the road. If the login information is lost, then any future necessary updates to business information could be delayed when building local citations for local map rankings.
Even though the website did show up on page three of the Google search results, it was basically invisible to locals who were performing dental related searches. This issue was mainly due to the lack of proper on-site and off-site SEO needed to be found in Google, Bing and Yahoo.
I offered to perform an in-depth audit for his own dental practice website. Dr. Ray agreed and gave me permission to continue with the audit. While conducting my initial website audit, I noticed a few major SEO and marketing flaws that were preventing visibility and conversions.
The Website Audit Findings
After the initial SEO audit, my assumptions were validated in regards to the website's poor on-site optimization. The website only scored a 30 out of a possible 100 points for on-page SEO. This score was generated using our online SEO audit tool.

Missing Header Tags
Header tags (H1, H2, H3 etc.) define webpage headings and are pieces of HTML code that let the search engine spiders know the theme of the content. Valley Circle Dental was missing the H1 and H2 tags. These vital tags are important ranking factors and not having these tags properly optimized is considered a bad SEO practice. These tags are one element of the 200+ Google ranking factors.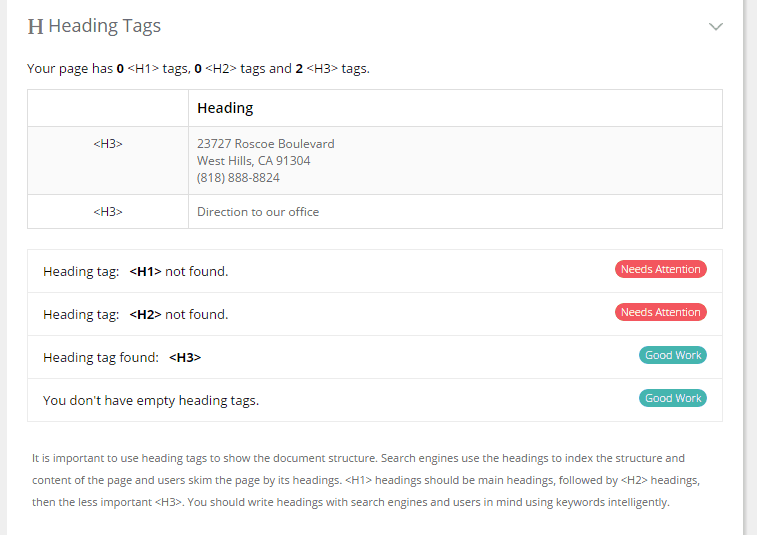 Poor Layout Design and Weak Calls to Action
After reviewing the code it was time to review the actual website layout and calls to action. One thing that immediately stood out was the lack of content, special offers and poor calls to action on the website.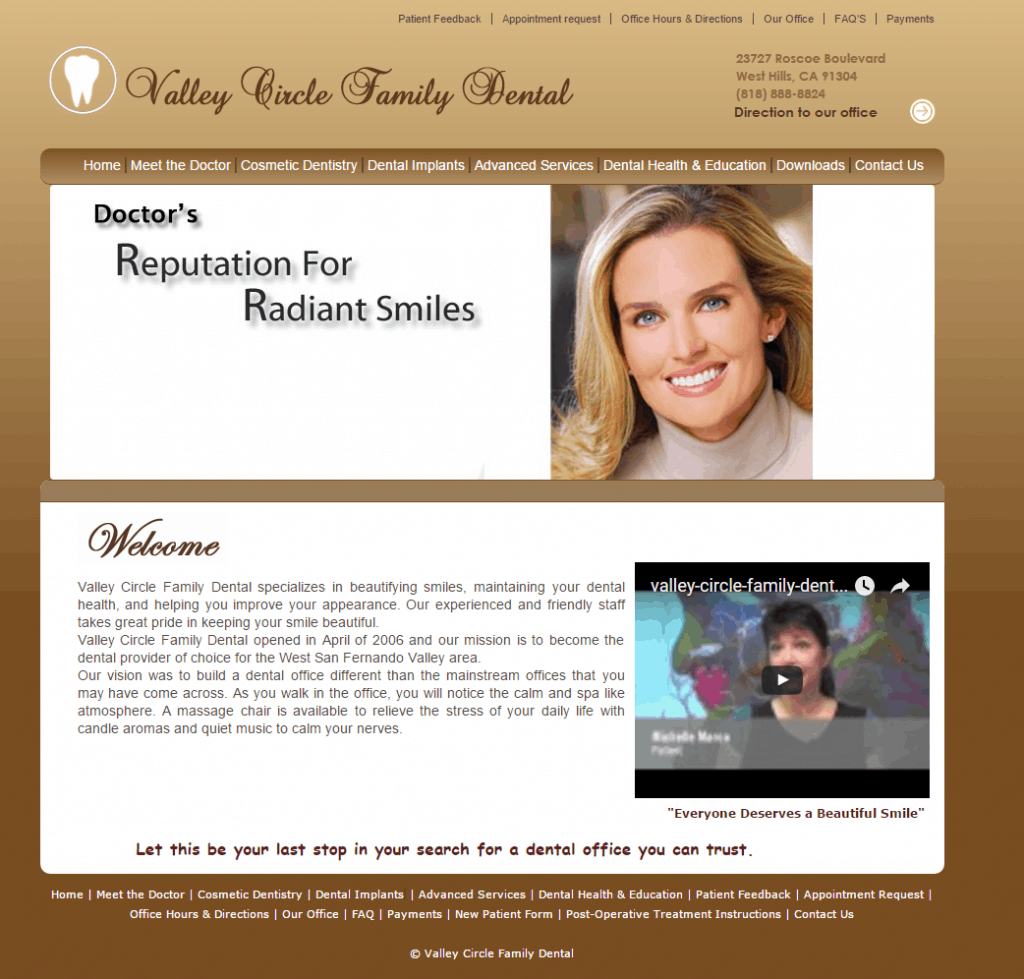 Logo Inconsistencies
The website color scheme and header displayed a logo that was different from the colors on their business card and did not reflect the overall practice brand.

No Special Offers or Calls to Action
Scrolling down a bit further I found there to be nothing other than an image slider which is common on websites. What was missing was a simple offer with a call to action. An example of this is "Free exam and x-rays for new patients" or "Schedule your complimentary exam and cleaning." These are all perfect special offers to include on the home page of any dental website. You want the offer to entice new patients to inquire about dental services.

Not Enough Homepage Content
Google and other major search engines have stated they prefer websites that offer great content describing their information, products and/or services. It's one of the many factors they take into consideration when ranking websites. Usually, you would want to aim for a word count of about 500-1,000 words per page. Valley Circle Dental had a total of 115 words that were used on the homepage. This was not a sufficient amount of content and was another reason for low rankings.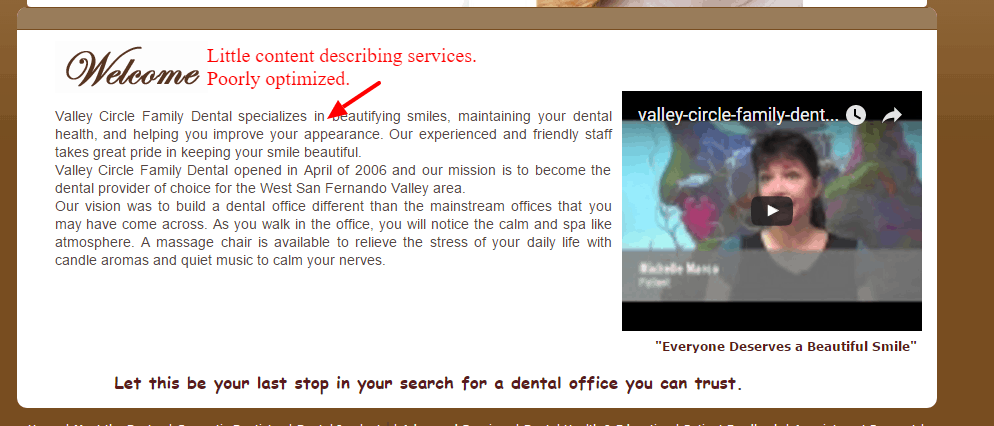 The Solution
After reviewing the SEO audit, goals, and current marketing strategies, I came up with a plan to increase exposure by utilizing ONE main online channel. That channel was Local Search Engine Optimization (Map Rankings).  I wanted Valley Circle Family Dental to rank for local keyword terms and gain more exposure by being included within the Google local maps 3 pack in addition to organic search rankings.
Keyword Research
By utilizing the Google Keyword planner tool, I was able to find various local dental related keyword terms to target and attempt to rank for. I noticed there were hundreds of local dental related searches being conducted on a monthly basis. I used this data to properly optimize Dr. Ray's website.

Creating a New Website
I planned out a new layout that would be both professional and pleasing to the eye. It also would include the missing calls to action that would help convert visitor traffic into scheduled appointments. I included two large buttons above the fold (toward the top of the website before scrolling). These were absent in the previous design and they encourage interaction.
I brainstormed with Dr. Hatami to come up with an enticing offer. He wanted to offer new patients a free teeth whitening with initial exam. This offer is visible on the homepage and incorporates a call to action. The website color scheme also aligns with the company brand.
After the layout and design were complete, I implemented my on-site SEO strategy and began optimizing Valley Circle Family Dental for all major search engines, specifically local map rankings.

Getting Valley Circle Family Dental on the Map!
Getting on the map for google search is where every business wants to be listed. It's where local business can gain the most exposure for themselves without costing them a dime in marketing dollars.
This location is prime virtual real estate!
The algorithm that is used to rank here in the top 3 (Pigeon algorithm) is different than organic search. One of the main local ranking factors is the consistency of your local business citations.
To rank in the local 3 pack I diligently worked on proper business listing optimization, citation building and other strategies.
The Results – Local Maps Rankings
As you can see, the strategies implemented have successfully paid off. Valley Circle Family Dental has a new layout and design and the website ranks for various local search terms (see screenshots below).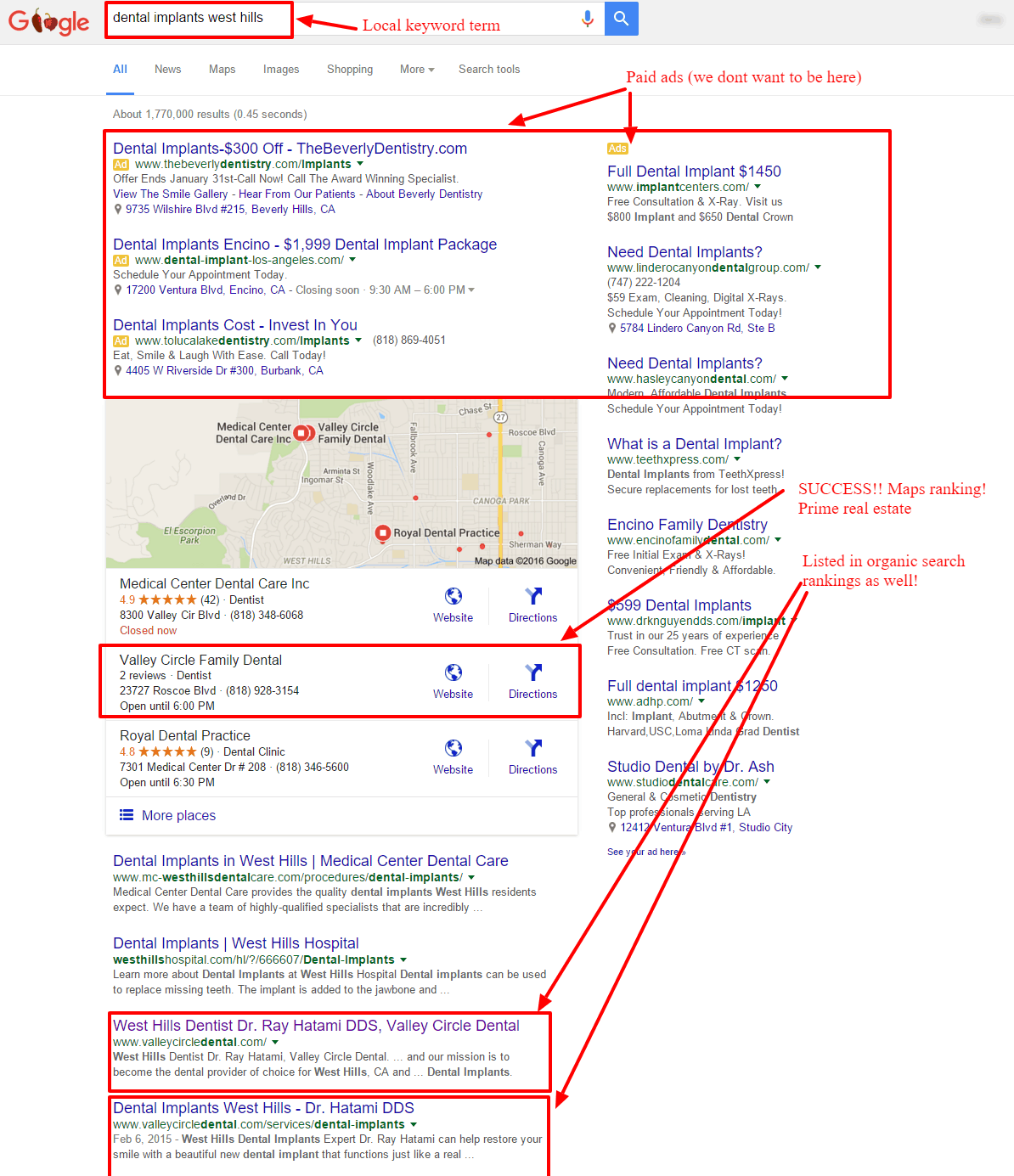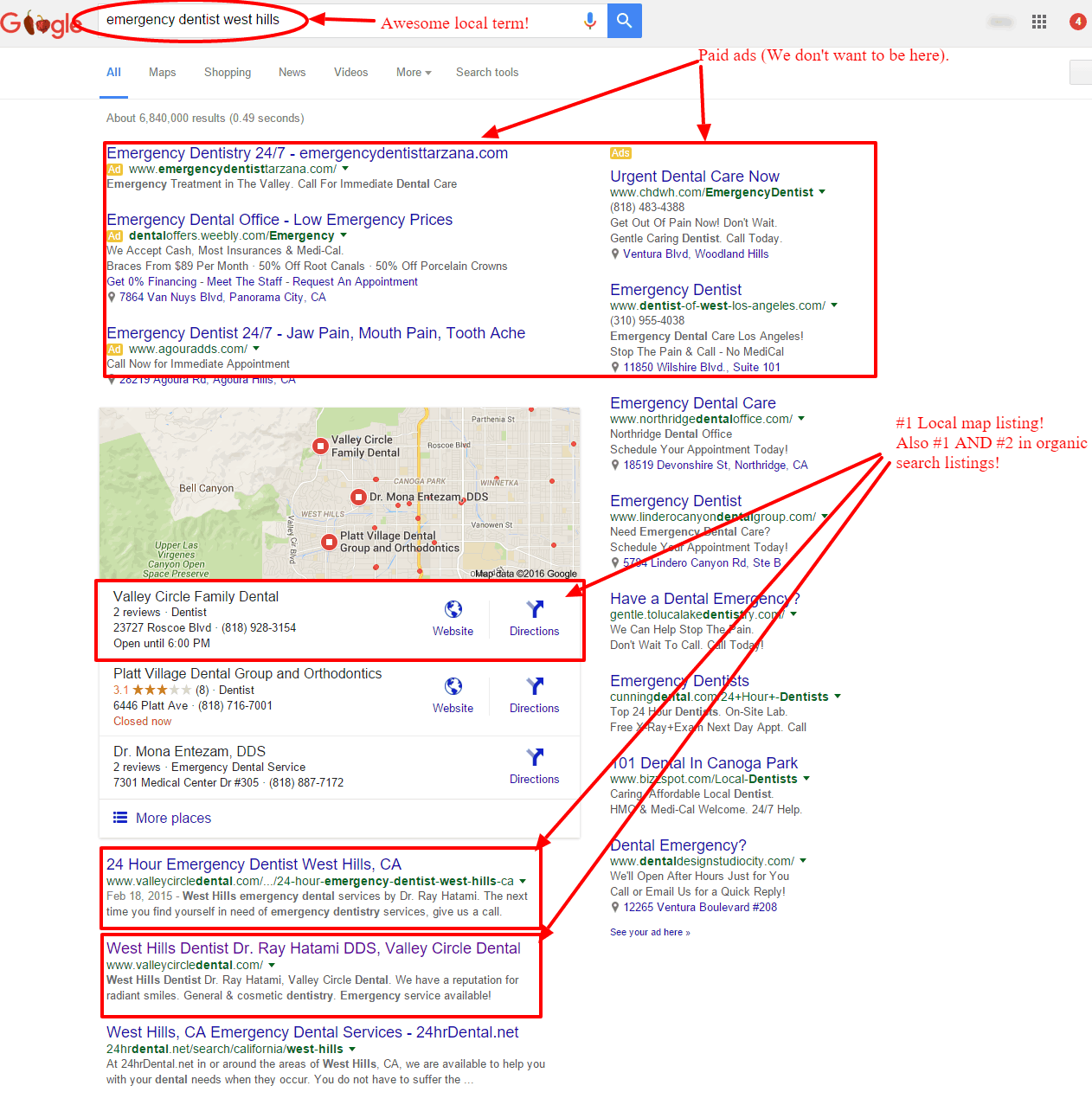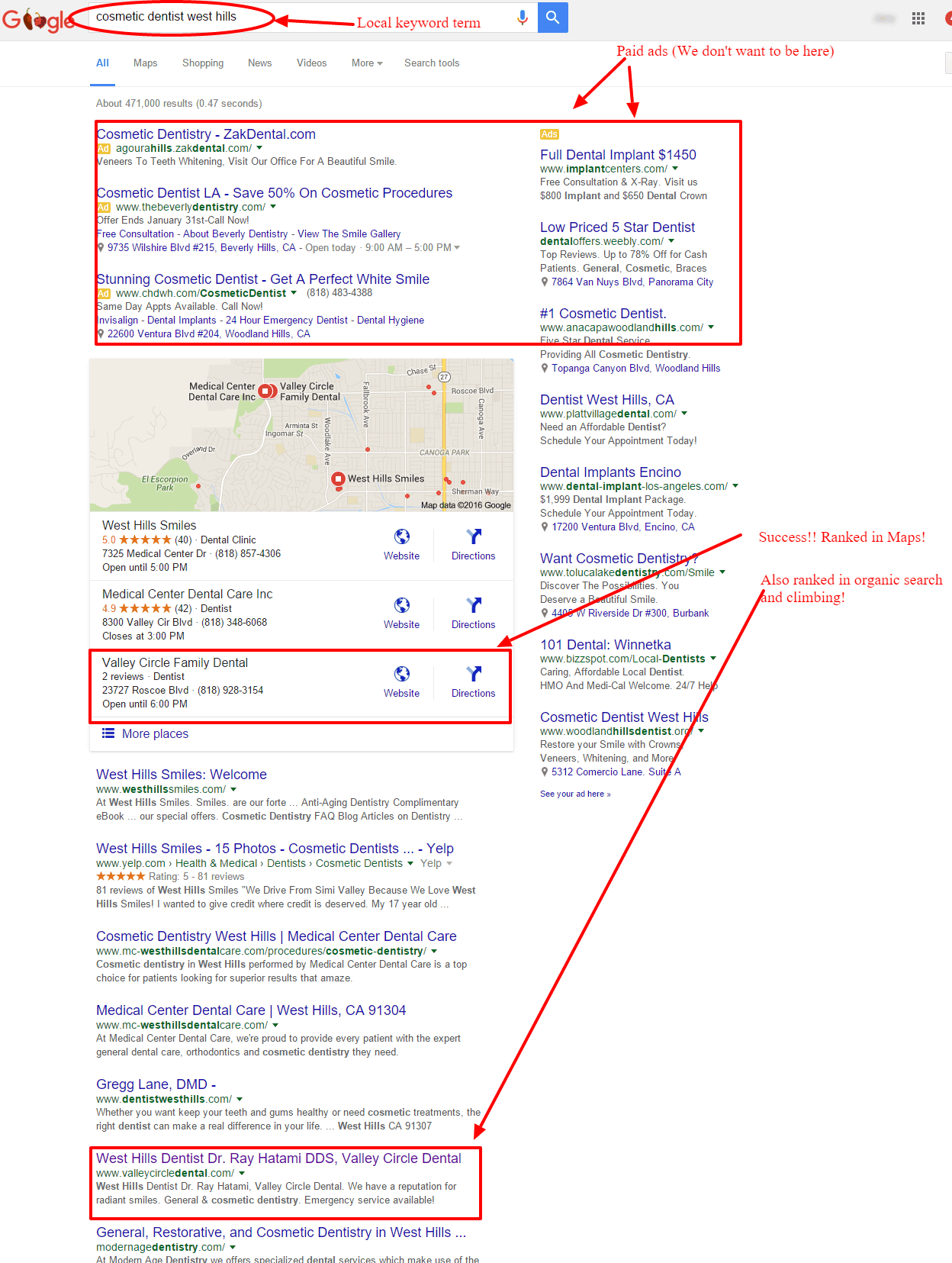 Increased Traffic and Leads
After the first month of the campaign, Valley Circle Family Dental was on the first page of Google for various local keywords. They are ranking within the organic search results and receive traffic from their maps rankings.
This exposure has helped generate over 500+ unique visitors, more than 1,600+ pageviews, 50+ phone calls and over 20+ appointments scheduled via their own website. Valley Circle Family Dental achieved all of this within the first 90 days of rankings.
The Reaction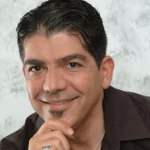 "After a few years of dealing with people who gave me empty promises for my web presence, it was quite refreshing to find someone who actually delivers on his promises. A professional who explained his services in a clear manner and followed through in a timely and efficient manner and very effectively I must say."

Needless to say, Dr. Ray Hatami was extremely happy with the results! We are now in phase two of the campaign, which is to target nearby cities in neighboring zip codes. We are also incorporating a small facebook ads campaign to run in conjunction with this SEO campaign. Now, it' your turn!
Do you want more traffic, leads and online appointments?
For Valley Circle Dental it all began with a complete website audit and competition analysis. Now you can get a full website audit and see how your local competition is taking business away from you.
Fill out the form below to generate your own website SEO analysis report. This report will help explain what could be holding your website back from more rankings and visitors.
Fill out the form to generate your website audit now!