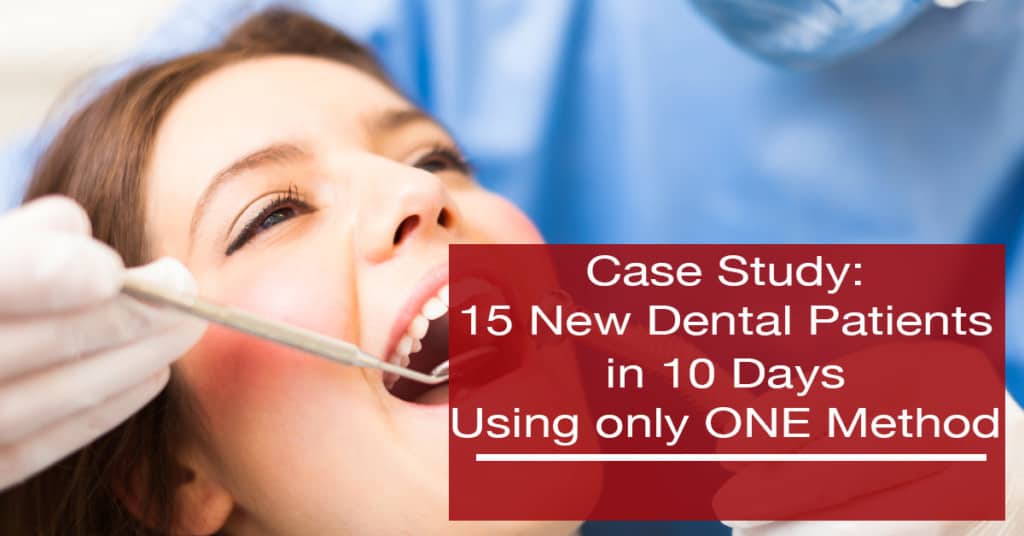 We all want more customers to grow our business, increase our revenue and have a steady flow of happy customers. Realizing that is the easy part. Achieving it is a little trickier, especially when you've got a business to run at the same time.
One of the prime ways to turbo-boost your business is by utilizing the paid ads that Facebook provides. In this blog post, I'm going to show you a strategy that helped me gain 15 new dental patient appointments in just 10 days using Facebook ads for business.
Don't believe me? Let's start by having a look at some proof: a case study from one of my clients, in which I did exactly that. If you want to read the full case study, click this link.
The proof: how I got my dental client 15 new clients in just 10 days (with a 650% ROI)

Dr. Michelson was already one of my valued SEO clients. He recognized the value of Facebook ads, but simply didn't have the time to invest in creating an advertising strategy (sound familiar?).  The process I implemented gained the dental practice 15 new patients in 10 days, generating $1,500. We only spent a total of $200 on Facebook ads. How, you ask? Let's look at the process in a bit of detail.
Step one: determining the right offer
We began the project with a strategy session, in order to establish some sales offers which would be appropriate for his dental practice. We landed on the following: a total of $99 for an initial exam, a clean, X-rays, and teeth whitening for new patients only. Why this offer? Not only has this kind of deal proven itself as successful time and time again at bringing new customers through the door, but it made financial sense for Dr Michelson, too. Offering the service outside of Groupon of Living Social also meant that he would already save 50%. It was a no-brainer.
Step two: refining the sales funnel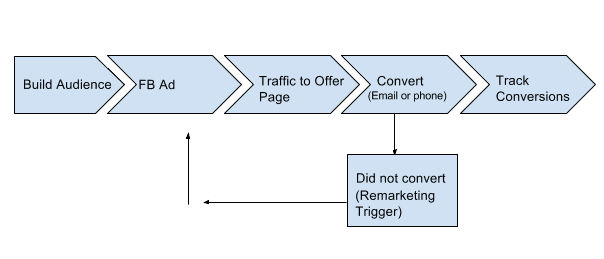 Next, we put some work into establishing the sales funnel. A surprising amount of businesses do not operate any kind of sales funnel and are seriously missing out by not doing so. They provide an effective way to guide your customer through the various stages of the buying cycle, from introduction to conversion. They also help you with tracking and analyzing data, which is essential for making your campaign as successful as it possibly can be.
The specific sales funnel I created for Dr Michelson was as follows: build audience > Facebook ad > traffic driven to offer page > conversion > track conversion. If the customer did not convert, they would then be re-marketed to with another Facebook ad.
As you can see, this is a fairly simple process – marketing doesn't have to be complicated! Despite its simplicity, it's remarkably effective.
Step three: crafting the website landing page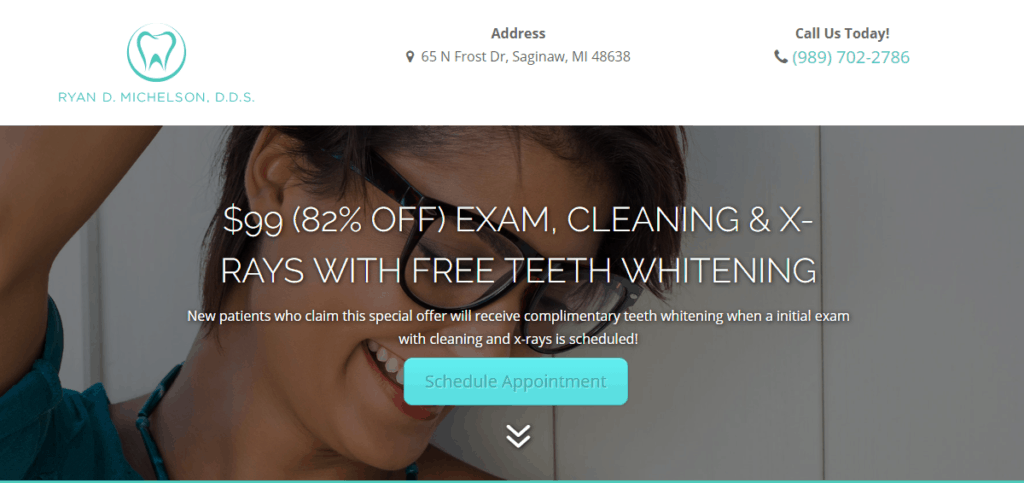 The next thing to do was to create a targeted landing page for the offer. For each specific deal, you should build a new landing page to really craft something relevant and targeted to your customers. The worst thing you can do is to waste all of the hard work you've put into creating the perfect offer and Facebook ad by just linking it to a homepage or generic sales page. The customer won't know where to click next, and you're likely to lose them. Here's the landing page I built for Dr. Michelson (http://www.michelsondds.com/teeth-whitening-special-offer/).
There are a few key things you'll notice, and you should keep these in mind when building your own offer landing page:
The customer has come here to learn about the offer you advertised. Keep them there, by not including any distracting links to other content on your website.
Instead, include relevant calls to action: such as a phone number to call, an appointment form to fill in, or an email address. Keep the options limited in order to gently guide the user in the direction you want them to go.
Don't talk too much about yourself. The customer will only be left thinking, "Ok, cool… but what's in it for me?" The page is built for them, not you.
That being said, you do need to find a way to build customer trust. Testimonials are a great way to do this. It can be the extra bit of assurance that a customer needs to go ahead and click the "purchase" button.
Keep it short. Don't waste time creating reams and reams of copy that no one is going to read. Keep it simple, to the point and concise. In the same way, don't put customers off by having them fill out a long, unwieldy form. Stick to the essentials: name, email, phone number, desired date of appointment.
Step four: creating the Facebook ad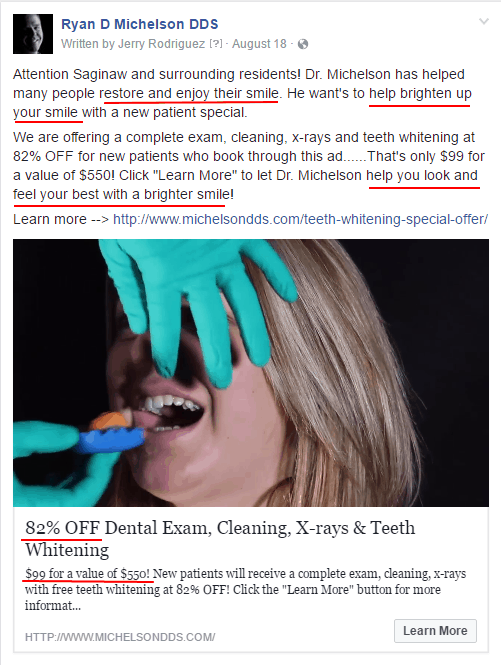 Now that you've established your offer, are clear on your sales funnel and have created a killer landing page, the next thing to do is to start building that audience using Facebook ads.
The first thing to note is that these ads work significantly differently from Google ads. Facebook uses big data to allow you to build a highly specific and targeted audience. Considering that Facebook has over 1.71 billion users, this is an incredible opportunity to find your target audience.
Don't waste Facebook's personalization features by just creating a blanket ad to target everyone close by. The more thought-out and targeted your ad, the better conversion rates you'll see.
You can get granular when creating your audience types, and you can start by using the data you've already accumulated.
Where do your customers live? How much do they earn? Do they have children? You can then supplement this audience by targeting those with relevant interests.
For example, for Dr. Michelson, we targeted those who were interested in teeth whitening. We also used consumer behavior patterns to inform who we displayed ads to, searching for those who had recently purchased oral care items.
Now is also the time to set your budget and decide on your keywords. Your budget will obviously depend on how much you're willing to spend, but I think it goes without saying that the more you invest, the better the results are likely to be.
When you've got the perfect audience, it's time to make that ad. Here are some top tips:
Explain the offer in a succinct and simple way that clearly outlines the benefits for the customer. E.g. "Achieve a sparkling smile for $99", rather than "$99 for teeth whitening and more."
Think about using video content. 51.9% of marketers think that video content marketing offers the best ROI (http://blog.hubspot.com/marketing/visual-content-marketing-strategy#sm.0001q1fe0yhbyevasep18f1uv6mut0). This may because they're easy to digest than long blocks of copy, and are attention-grabbing at the same time.
Step five: reap the rewards!

If you've taken the time to build the right foundations, the power of Facebook ads can be incredible. Just to recap, using the exact method shown above, I was able to secure 15 new dental appointments and 3 phone calls for my client in just 10 days. This is equivalent to $1,500, with a Facebook ad spend of just $200.
If you're interested in finding out how Facebook ads can work for your business, click the button below to set up a complimentary 45 minute strategy session.
Want help getting results like this for your business?
Schedule a complimentary 45 minute strategy session with me where I talk about what's working and what's not with your marketing.
I'll also share with you what's currently working for my clients and how you can implement the same strategies. 
The call is 100% free and no strings attached.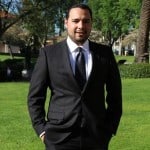 About the author
Jerry has been creating winning digital marketing campaigns for local businesses since 2011. Through research and data, Jerry is able to effectively market his clients businesses by cutting wasteful ad spend while increasing ROI.
Schedule Your Strategy Session Today!